Our Contact Info
Street:
City:
Mailing:
City:
Telephone:
E-Mail: 6136 S. Salina St.
Syracuse, NY 13205
PO BOX 476
Nedrow, NY 13120
315 395-9869
click to email


We are located:
Less than 10 minutes from
10-15 minutes from
15-20 minutes from
20-25 minutes from
25-30 minutes from
More than 30 minutes from
Map to St. Andrew's
---
Sunday Worship Location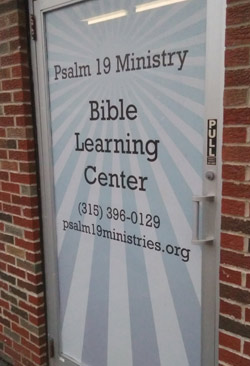 For Sunday morning worship, St. Andrew's Anglican Church meets in the Psalm 19 Ministries building at 6138 South Salina St., Syracuse, NY 13205, right next to our ministry center where you see our sign.
We are right across the street from Aldi's, OIP & Colonial Laundromat in Nedrow at the corner of Lindbergh Road and S. Salina St. Look for the sign "Bible Learning Center" on the building and the "St. Andrew's Anglican Church" sign on the sidewalk. We are extremely grateful for the hospitality and kindness shown us by Iris Godfrey of Psalm 19, in giving us a place of worship.
There is handicap parking directly in front of the building or in the parking lot to the south. Walk through the door and you will be amongst friends.
St. Andrew's Ministry Center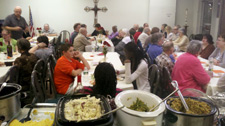 St. Andrew's Ministry Center is located at 6136 South Salina Street in Nedrow -- immediately next to where we worship on Sundays. We hold Sunday School classes, dinners & parties, meetings and special worship services and Holy Week week services.