Current
Worship

Schedule


9:30 am

Sundays

October
2 - 9:30 am Sunday Worship
9 - 9:30 am Sunday Worship
16 - 9:30 am Instructed Eucharist!
23 - 9:30 am Sunday Worship
30 - 9:30 am Sunday Worship

November
6 - 9:30 am Children's Sunday!
13 - 9:30 am Sunday Worship
20 - 9:30 am Healing Service!
27 - 9:30 am Advent Worship Begins!
Visit

ing St. Andrew's?

Visit our Sunday page for more about Sunday services St. Andrew's.

We are located here.
Instructed
Eucharist
Sunday, October 16 at 10:30 am
Why do Anglicans worship like they do? The short answer is we love God the Father, Son and Holy Spirit and everything we do in a worship service is to honor him.
On Sunday October 16 during the worship service, we explain all the symbolism, sacred actions and structure of Anglican Worship. Please come for a time to grow deep in your faith and worship of our Lord.
Sunday

School

Begins Sunday, Oct 2 following the Worship Service!

Sunday School for all ages follows the worship service most Sundays.

Adult Sunday School: "A Christian Understands & Responds to Islam". This class will utilze Nabeel Quereshi's powerful conversion testimony and talks on Isalm as a basis for a discussion on Islam.
Children's

Sunday

Sunday, Nov. 6 our children will lead the worship service.
Healing

Service

Sunday, Nov. 20 will be our next Healing Service.
Thanksgiving

Dinner

We will feast as a church family on Saturday, Nov. 19 for Thanksgiving Dinner. Time TBA.
Parenting

Course

Coming in Winter 2017!
St. Andrew's is currently preparing to launch the Alpha Parenting Course to support parents in our church and community. Please watch our web site and Facebook page for more information.
Garage

Sale

Thursdays 12-6pm!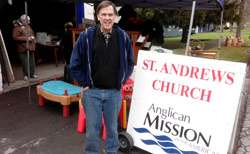 Every Thursday St. Andrew's runs a Garage Sale to serve the needy people of our community and make friends with all who come. Watch the St. Andrew's Garage Sale Facebook page for current info and photos of sale items.
Anglican FAQ
St. Andrew's is part of the world-wide family of Christ followers called Anglicans. Find out more about who we are, what we believe and our ancient Anglican origins. Under development
Resources
Visit our Resources page for links to books, videos and web sites that will build your faith and support you as you seek to know Christ and follow Him as Lord. Read More
Our Mission
Jesus came to them and said, "All authority in heaven and on earth has been given to me. 19 Therefore go and make disciples of all nations, baptizing them in the name of the Father and of the Son and of the Holy Spirit, 20 and teaching them to obey everything I have commanded you. And surely I am with you always, to the very end of the age."